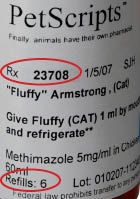 Online Prescription Refills
PetScripts has a new refill process! If you have not submitted a refill since 7/2/2021, please create a new account below.
PLEASE NOTE: The pharmacy currently only ships to the last address a prescription has been delivered to, please call us if there is a new address you'd like used for your next delivery.
PICK UP: Most prescriptions requested BEFORE 4pm will be available for pick up the next business day at noon or anytime thereafter
SHIPPING: Most prescriptions requested BEFORE 4pm will be sent out the following business day

Orders will be sent via standard shipping to the last address we shipped to
Credit card on file will be charged

If your prescription number starts with a 1, this form will not work. Please

call the office, and either leave a message with your information or speak directly to us.

*Note: Some items, such as little tabs, treats, or special order items may take longer
Please use any date for date of birth in the form below